As an Amazon Associate I earn from qualifying purchases. As an affiliate marketer, I earn a commission on every hire you make on Fiverr through my affiliate link. This means that if you click on my link and hire a freelancer on Fiverr, I will receive a small commission.
We use affiliate links. If you purchase something using one of these links, we may receive compensation or commission.
Thanksgiving, a time-honored tradition cherished by families across the United States, is a time for gratitude and togetherness. One of the focal points of this cherished holiday is, undoubtedly, the sumptuous feast that brings loved ones together around the table. If you're tasked with preparing a portion of this grand feast, fear not! We've curated a list of delectable yet easy Thanksgiving foods that will leave your guests raving and asking for seconds. Leave the hassle to find Easy Thanksgiving Foods to Make. This Article will guide you elevate your holiday feast. 
Savory Herb-Roasted Turkey Easy Thanksgiving Foods to Make
The pièce de résistance of any Thanksgiving spread is, of course, the turkey. To create a succulent and flavorful bird, consider trying our Savory Herb-Roasted Turkey recipe. This delightful dish involves marinating the turkey in a blend of fresh herbs such as rosemary, thyme, and sage, infusing it with an aromatic bouquet of flavors. Roasting it to perfection ensures a crispy, golden skin and tender, juicy meat.
1 whole turkey (12-14 lbs)
1/2 cup butter, softened
4 cloves garlic, minced
2 tablespoons fresh rosemary, chopped
2 tablespoons fresh thyme, chopped
2 tablespoons fresh sage, chopped
Salt and pepper to taste
Preheat your oven to 325°F (165°C).
In a bowl, combine softened butter, minced garlic, chopped rosemary, thyme, and sage. Mix until well incorporated.
Carefully separate the skin from the turkey breast and rub the herb butter mixture under the skin, ensuring an even distribution.
Season the turkey generously with salt and pepper, both inside and out.
Place the turkey in a roasting pan, breast side up, and cover with foil.
Roast in the preheated oven for approximately 3 to 3 1/2 hours, or until the internal temperature reaches 165°F (74°C).
For a crispy skin, uncover the turkey during the last 30 minutes of cooking.
Allow the turkey to rest for 20-30 minutes before carving.
Classic Cranberry Sauce Easy Thanksgiving Foods to Make
No Thanksgiving feast is complete without a tangy and sweet cranberry sauce to complement the savory dishes. Our Classic Cranberry Sauce recipe strikes the perfect balance between tartness and sweetness, elevating your meal to new heights.
12 oz fresh cranberries
1 cup granulated sugar
1 cup water
Zest of one orange
2 tablespoons fresh orange juice
In a saucepan, combine cranberries, sugar, water, orange zest, and orange juice.
Bring to a gentle boil, then reduce heat and let it simmer for 10-12 minutes, or until the cranberries burst and the sauce thickens.
Allow the sauce to cool before serving.
Garlic Mashed Potatoes Easy Thanksgiving Foods to Make
Creamy, buttery, and infused with the pungent aroma of garlic, our Garlic Mashed Potatoes are a delightful addition to your Thanksgiving table.
5 lbs russet potatoes, peeled and cubed
1 cup butter
1 cup whole milk
4 cloves garlic, minced
Salt and pepper to taste
Boil the potatoes in salted water until tender, then drain and return them to the pot.
In a saucepan, melt the butter and add minced garlic. Cook for 2-3 minutes until fragrant.
Mash the potatoes, gradually incorporating the garlic-infused butter and milk until smooth and creamy.
Season with salt and pepper to taste.
With these mouthwatering recipes at your disposal, you're well-equipped to dazzle your guests with a Thanksgiving feast to remember. Embrace the joy of cooking and sharing delicious food with loved ones, and create cherished memories that will last a lifetime.
Embark on a transformative culinary adventure with our meticulously crafted Flat Stomach Weight Loss Dinner Recipes. Discover a delectable array of meals designed to support your fitness goals. These recipes strike a perfect balance between flavor and nutrition, ensuring every bite brings you closer to your desired physique. Explore the art of healthy eating and make every dinner a step towards a fitter you.
Read More »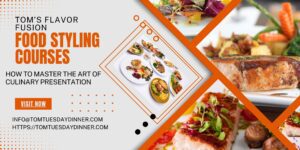 Food styling is the art of making food look appetizing and attractive for the camera. It requires a lot of skill, creativity, and attention to detail. Food styling is not only about cooking, but also about choosing the right ingredients, colors, shapes, textures, and props to create a harmonious and appealing composition. Food styling is a fun and rewarding career that allows you to express your personality and vision through food. To become a good food stylist, you need to practice a lot, learn from other experts, and keep up with the latest trends and techniques. There are many resources online that can help you learn the basics and advanced skills of food styling. Some of the best online courses are offered by [Food Styling Academy], [Food Styling Masterclass], and [Food Styling Secrets]. These courses cover topics such as food styling tools, props, lighting, composition, color theory, editing, and more. They also provide feedback, support, and guidance from experienced instructors and peers. By taking these courses, you can learn how to master the art of culinary presentation and create stunning food photos and videos for your own portfolio or for your clients.
Read More »
Learn how to create unique flavor combinations in your cooking using the concepts of flavor profiles, flavor pairing, and flavor experimentation. Discover some surprising and delicious examples of flavor combinations for different types of dishes and drinks.
Read More »
As an Amazon Associate, I earn from qualifying purchases. As an affiliate marketer, I earn a commission on every hire you make on Fiverr through my affiliate link. This means that if you click on my link and hire a freelancer on Fiverr, I will receive a small commission.