As an Amazon Associate I earn from qualifying purchases. As an affiliate marketer, I earn a commission on every hire you make on Fiverr through my affiliate link. This means that if you click on my link and hire a freelancer on Fiverr, I will receive a small commission.
We use affiliate links. If you purchase something using one of these links, we may receive compensation or commission.
Crafting a Memorable and Stress-Free Thanksgiving Dinner for Two
Discover stress-free Thanksgiving dinner ideas for two with easy recipes and tips for an intimate celebration. Make your Thanksgiving special.
Introduction
Welcome to our comprehensive guide on creating an unforgettable and serene Thanksgiving feast for two. Thanksgiving doesn't have to be about large gatherings and complex preparations. Celebrating this occasion with your significant other can be a special experience. In this article, we will discuss how to plan, shop, cook, set the table, and enjoy your Thanksgiving meal as a couple.
Simplify Your Menu for Two
When planning your Thanksgiving menu for two, simplicity and variety are key. Here's how to create a customized menu that suits your tastes:
1. Choose Your Favorite Dishes
Start by listing your favorite Thanksgiving dishes. This celebration is all about enjoying your favorite flavors, so prioritize dishes you both love.
2. Traditional or Unique?
Decide whether you want to go with the traditional roast turkey or explore new culinary options like delightful Cornish hens. Tailor your choices to match your preferences and make this intimate meal truly special.
3. Consider Dietary Restrictions
If you or your partner have dietary restrictions, explore delicious alternatives. For vegetarians or vegans, consider serving stuffed acorn squash or a tasty lentil loaf.
Creating Your Shopping List
Before embarking on your Thanksgiving cooking adventure, make sure you have all the ingredients you need for a satisfying meal for two:
1. Choose Your Protein
Whether you prefer turkey breast, Cornish hens, or a vegan protein source, make sure you have enough for two servings.
2. Fresh Ingredients
Stock up on a variety of fresh vegetables, potatoes, and fragrant herbs to add flavor and nutrition to your dishes. Don't forget essentials like sage, thyme, and nutmeg to capture that familiar holiday taste.
3. Desserts and Drinks
Make sure you're prepared for dessert with pie crusts, fillings, or alternative options. Also, select beverages that complement your meal and the ambiance, such as wine or a non-alcoholic elixir.
Stress-Free Cooking Schedule
To ensure a stress-free Thanksgiving, follow this cooking timeline:
Day Before Thanksgiving:
Plan and prepare your ingredients, and set the table in advance. This includes chopping vegetables, preparing stuffing, and marinating your chosen protein. You can even pre-make certain side dishes to make cooking on the big day smoother.
Thanksgiving Day: 
Stick to a carefully planned cooking schedule to ensure all your dishes are ready on time. Start your preparations early and build in resting periods for your protein and dessert to ensure they are perfectly presented when served.
Detailed Recipes and Guidance
For a complete guide and step-by-step instructions on creating a perfect Thanksgiving meal for two, check out our dedicated recipe collection. Here, you'll find expert advice on planning every aspect of your meal, from the main course to delicious sides and desserts.
Crafting a Cozy Ambiance
Setting the right atmosphere for your Thanksgiving dinner for two is essential to enhance the overall experience:
1. Soft Lighting
Create a warm and inviting atmosphere with soft, gentle lighting and the soft glow of candles. This sets a welcoming tone that encourages relaxation and connection. To add a festive touch, decorate your dining area with seasonal elements like gourds and colorful foliage.
2. Elegant Tableware
Use your finest tableware, exquisite stemware, and polished cutlery. This is a special occasion, and your table setting should reflect the significance of the moment.
Savoring the Meal Together
As you sit down to enjoy your Thanksgiving meal for two, make the most of this intimate and cherished time:
1. Enjoy Every Bite
Take your time to savor each bite, appreciating the flavors and textures of your carefully prepared dishes. Engage in conversation and deepen your connection as you dine together.
2. Express Gratitude
During your meal, take a moment to express your gratitude to each other. This simple gesture can strengthen your bond and add deeper meaning to your celebration.
3. Disconnect and Connect
Use this special moment as an opportunity to disconnect from digital distractions. Put away your electronic devices and focus on each other, engaging in meaningful conversation and cherishing the moment.
Making the Most of Leftovers
Don't let any leftover food go to waste! We offer creative ideas for repurposing Thanksgiving leftovers, from making delicious turkey sandwiches to preparing hearty soups. By reducing food waste, you can continue to enjoy the delicious flavors of the holiday season long after Thanksgiving Day.
Celebrate Thanksgiving for Two with Ease
Enjoy a stress-free Thanksgiving for two and create lasting memories. Whether it's your first Thanksgiving together or a cherished tradition, relish this special meal filled with love and gratitude.
Conclusion
As you prepare to celebrate Thanksgiving for two, remember the intimacy that makes this occasion unique. To create lasting memories with your loved one, simplify your menu, create a precise shopping list, and set an intimate atmosphere. Savor the flavors, express gratitude, and cherish the shared moments of this intimate Thanksgiving feast.
FAQs
Can we customize the menu further to suit our unique tastes?
Absolutely! Personalization is key to a memorable Thanksgiving for two. Feel free to adjust the menu to include your favorite dishes.
What should we do if we have dietary restrictions?
No worries. Explore alternative options, such as vegetarian or vegan dishes, that align with your dietary preferences.
How can we make the most of Thanksgiving leftovers?
Get creative! Our article provides suggestions on how to repurpose Thanksgiving leftovers into delicious meals.
When is the ideal time to start cooking on Thanksgiving Day?
Early preparation is essential. Begin cooking early and be sure to factor in resting time for your dishes.
Can we adapt these tips for a larger gathering in the future?
Certainly! It can scale these ideas up for larger Thanksgiving celebrations.
Hire Freelancer @Fiverr and pay per project not pay per Hour
Embark on a transformative culinary adventure with our meticulously crafted Flat Stomach Weight Loss Dinner Recipes. Discover a delectable array of meals designed to support your fitness goals. These recipes strike a perfect balance between flavor and nutrition, ensuring every bite brings you closer to your desired physique. Explore the art of healthy eating and make every dinner a step towards a fitter you.
Read More »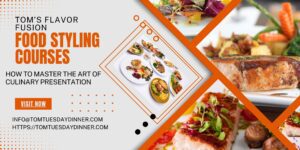 Food styling is the art of making food look appetizing and attractive for the camera. It requires a lot of skill, creativity, and attention to detail. Food styling is not only about cooking, but also about choosing the right ingredients, colors, shapes, textures, and props to create a harmonious and appealing composition. Food styling is a fun and rewarding career that allows you to express your personality and vision through food. To become a good food stylist, you need to practice a lot, learn from other experts, and keep up with the latest trends and techniques. There are many resources online that can help you learn the basics and advanced skills of food styling. Some of the best online courses are offered by [Food Styling Academy], [Food Styling Masterclass], and [Food Styling Secrets]. These courses cover topics such as food styling tools, props, lighting, composition, color theory, editing, and more. They also provide feedback, support, and guidance from experienced instructors and peers. By taking these courses, you can learn how to master the art of culinary presentation and create stunning food photos and videos for your own portfolio or for your clients.
Read More »
Learn how to create unique flavor combinations in your cooking using the concepts of flavor profiles, flavor pairing, and flavor experimentation. Discover some surprising and delicious examples of flavor combinations for different types of dishes and drinks.
Read More »
As an Amazon Associate, I earn from qualifying purchases. As an affiliate marketer, I earn a commission on every hire you make on Fiverr through my affiliate link. This means that if you click on my link and hire a freelancer on Fiverr, I will receive a small commission.