As an Amazon Associate I earn from qualifying purchases. As an affiliate marketer, I earn a commission on every hire you make on Fiverr through my affiliate link. This means that if you click on my link and hire a freelancer on Fiverr, I will receive a small commission.
We use affiliate links. If you purchase something using one of these links, we may receive compensation or commission.
Thanksgiving, a time to gather with loved ones, express gratitude, and of course, indulge in a mouthwatering feast. 
A Delicious Feast Simplified Thanksgiving Food Ideas
 While the traditional Thanksgiving spread is a cherished tradition, it can be quite overwhelming to prepare. But fear not! In this article, we will explore easy Thanksgiving food ideas that will simplify your holiday preparations without sacrificing flavor. Whether you're a seasoned chef or a novice in the kitchen, these recipes will ensure your Thanksgiving dinner is a resounding success.
Table of Contents
Introduction
Appetizers That Impress
Effortless Main Courses
Sides That Shine
Delectable Desserts
Conclusion: A Thanksgiving to Remember
Appetizers That Impress
Kick off your Thanksgiving dinner with a selection of appetizers that are as impressive as they are easy to make. Here are a few ideas to get you started:
1. Stuffed Mushrooms
Begin with a classic like stuffed mushrooms. These bite-sized treats are filled with a savory mixture of cream cheese, garlic, herbs, and breadcrumbs. They're quick to prepare and sure to be a hit with your guests.
2. Cranberry Brie Bites
For a delightful combination of sweet and savory, try cranberry brie bites. These mouthwatering morsels feature flaky pastry, creamy brie cheese, and a dollop of cranberry sauce. They're simple to assemble and burst with flavor.
Effortless Main Courses
Now, let's focus on the centerpiece of your Thanksgiving meal. These main courses are both easy to cook and guaranteed to leave your guests craving seconds:
3. Slow-Cooker Turkey
Simplify the turkey preparation process with a slow-cooker. Season your bird, place it in the slow-cooker with some broth and herbs, and let it cook to tender perfection. You'll have a moist and flavorful turkey without the stress of constant basting.
4. Honey Glazed Ham
If turkey isn't your thing, consider a honey-glazed ham. A pre-cooked ham is brushed with a mixture of honey, brown sugar, and Dijon mustard, then baked to caramelized perfection. It's a hassle-free alternative that doesn't skimp on taste.
Sides That Shine
Thanksgiving sides should complement your main course effortlessly. Here are a couple of easy-to-make side dishes that will steal the spotlight:
5. Garlic Mashed Potatoes
Creamy and rich garlic mashed potatoes are a must-have on any Thanksgiving table. Boil potatoes until tender, then mash them with butter, garlic, and cream. This dish is a crowd-pleaser and takes minimal effort to prepare.
6. Roasted Brussels Sprouts
Elevate your side game with roasted Brussels sprouts. Toss them in olive oil, sprinkle with salt and pepper, and roast until they're caramelized and crispy. It's a simple side dish that packs a flavorful punch.
Delectable Desserts
No Thanksgiving meal is complete without a sweet ending. Here are a couple of dessert options that will have everyone asking for seconds:
7. Pumpkin Pie Bars
Simplify the pie-making process with pumpkin pie bars. A buttery crust is topped with a creamy pumpkin filling, resulting in a dessert that captures all the flavors of a classic pumpkin pie without the fuss of a homemade crust.
8. No-Bake Cheesecake
For a hassle-free dessert, try a no-bake cheesecake. Blend cream cheese, sugar, and vanilla extract, then pour the mixture over a graham cracker crust. Let it chill, and you'll have a velvety cheesecake that's a breeze to make.
Conclusion: A Thanksgiving to Remember
As we wrap up our exploration of easy Thanksgiving food ideas, remember that Thanksgiving is about enjoying quality time with loved ones. These simplified recipes allow you to spend less time in the kitchen and more time creating cherished memories with family and friends.
In conclusion, the key to a successful Thanksgiving feast is to keep it simple, engage your guests with delectable dishes, and savor every moment. By following these easy Thanksgiving food ideas, you'll not only save time and effort but also create a memorable culinary experience that will leave everyone grateful for your hosting skills. Happy Thanksgiving!
Boost Your Business with Fiverr Freelancers: Pay for Success, Not Hours!
Embark on a transformative culinary adventure with our meticulously crafted Flat Stomach Weight Loss Dinner Recipes. Discover a delectable array of meals designed to support your fitness goals. These recipes strike a perfect balance between flavor and nutrition, ensuring every bite brings you closer to your desired physique. Explore the art of healthy eating and make every dinner a step towards a fitter you.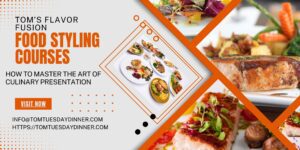 Food styling is the art of making food look appetizing and attractive for the camera. It requires a lot of skill, creativity, and attention to detail. Food styling is not only about cooking, but also about choosing the right ingredients, colors, shapes, textures, and props to create a harmonious and appealing composition. Food styling is a fun and rewarding career that allows you to express your personality and vision through food. To become a good food stylist, you need to practice a lot, learn from other experts, and keep up with the latest trends and techniques. There are many resources online that can help you learn the basics and advanced skills of food styling. Some of the best online courses are offered by [Food Styling Academy], [Food Styling Masterclass], and [Food Styling Secrets]. These courses cover topics such as food styling tools, props, lighting, composition, color theory, editing, and more. They also provide feedback, support, and guidance from experienced instructors and peers. By taking these courses, you can learn how to master the art of culinary presentation and create stunning food photos and videos for your own portfolio or for your clients.
Learn how to create unique flavor combinations in your cooking using the concepts of flavor profiles, flavor pairing, and flavor experimentation. Discover some surprising and delicious examples of flavor combinations for different types of dishes and drinks.
As an Amazon Associate, I earn from qualifying purchases. As an affiliate marketer, I earn a commission on every hire you make on Fiverr through my affiliate link. This means that if you click on my link and hire a freelancer on Fiverr, I will receive a small commission.